An act as simple as moving the Coca-Cola bottles to the side during a press conference has led to a feud between Cristiano Ronaldo and the Coca-Cola company.
As soon as the Mega Portugal star sat in front of the iconic red bottle, he decided to move the Coca-Cola bottles to the side as if to demonstrate that he didn't endorse the product during his pre-Euro 2020 press conference, and once the bottles were out of sight , he hammered home his message by holding up a bottle of water.
The Coca-cola drink is one of the sponsors at UEFA's flagship tournament and the incident took place at a press conference ahead of Portugal's 3-0 win over Hungary.
Earlier the 36-year-old has disapproved of consuming the famous fizz drink and even now he have no intentions to publicly support them as sponsors.
His rather simple act made a massive impact on the stock market, leading the company with a massive  $4 billion decrease in Coca-Cola's market value.
Share prices also fell from $56.10 to $55.22.
As per the Daily Mail reports ,a blunt statement from the drinks giants saw them insist that "everyone is entitled to their drink preferences," and that each individual has different "tastes and needs".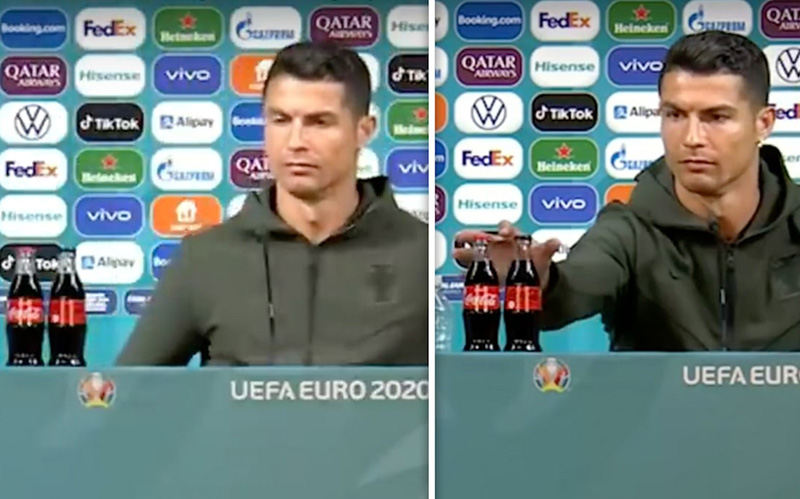 Nobody would have ever thought or expected that such a casual gesture can cause a storm at Euro 2021, either ways Ronaldo was not defamed after the incident.
With Euro 2022 already taking place and FIFA world cup scheduled for later this year, the hotly anticipated FIFA 2022 videogame will have a lot of events to look forward to. It also promises a major visual upgrade. Who knows, we might even see Cristiano making a comeback as its cover state.